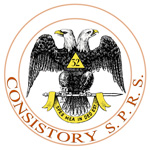 Consistory
Fourteen "Traditional", "Chivalric" and "Modern" Degrees,from the 19th to the 32nd inclusive, are conferred in a Consistory of Sublime Princes of the Royal Secret.
In the area of morals, certain Consistory Degrees teach the ultimate victory of good over evil, the dignity of labor, the sacredness of duty and unselfish service as the test of one's religious professions. A leader of men is taught that he must be righteous if he aspires to influence others and that he should listen, with open mind, to the lessons of the ages.
In social relations, the Consistory teaches that toleration is respect for the opinions and religious convictions of others; that he who judges others must himself be above reproach; that it is noble to forgive but ignoble to seek revenge; that a Freemason who commits a felony will not be shielded by his brethren; and that he should have faith in himself, in his fellowman, and in God.
In the area of national affairs, the Consistory holds firmly to the separation of Church and State and teaches that treason is a crime over which Masonry casts no mantle of charity. It proclaims that the crowning glory, in any human life, is that sacrificial love which impels one to lay down his life for a friend.
The Degrees are:

19° Grand Pontiff
20° Master ad Vitam
21° Patriarch Noachite
22° Prince of Libanus
23° Knight of Valor
24° Brother of the Forest
25° Master of Achievement
26° Friend and Brother Eternal
27° Knight of Jerusalem
28° Knight of the Sun
29° Knight of St. Andrew
30° Grand Inspector
31° Knight Aspirant
32° Sublime Prince of the Royal Secret

Commander-In-Chief - 2018-19

Kennard E. Brown, III, 32°